De la Torre's ART GALLERY
Welcome to Guadalupe de la Torre - Montaņo's ART GALLERY.
If you are interested in purchasing art, get in touch with Guadalupe for price list. Her E-mail address is gdelatorre1@yahoo.com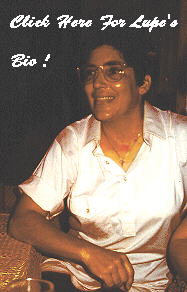 ---
This is a really neat site. Please go visit it!

We had visitors in the Gallery.
The Link to the family page has been removed, as this was commandeered by a hacker. Guadalupe has or had no affiliation with the link that had been placed here. Any further attempts to hijack this page will promptly be reported. This is not a joke!
---
---
Guadalupe de la Torre - Montaņo
gdelatorre1@yahoo.com
128 W. 17th Street
Tucson, AZ 85701
United States
---
---
Walk into each one of our five showrooms by clicking on the title, click on each one of the paintings and enjoy the full view of every piece of art.Do not forget to sign our guest book. Thank you.
---